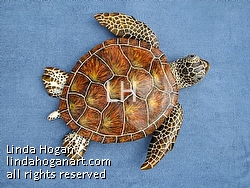 Sea Turtles making a comeback
This Turtle "Nicodemus" is in my new gallery Earth & Sea in Kapaa, Kauai. He is a very old soul. I hand sculpted him from a stone-like epoxy resin clay. I had dozens of photographs of Hawaiian Green Sea Tutles when I was working this winter in Kauai. Went snorkeling and saw many Sea Turtles in the ocean and even saw them from the cliffs above the water. The Hawaiian Green Sea Turtles are making a comeback from when their numbers dwindled and they faced extinction. They are still endangered and have so many challenges to their survival but at least in most countries they are NOT on the menu in restaurants. It seems that there is a great awareness of Sea Turtles especially among children. I was working on one a few months ago in my studio at night and some people walked by on the side walk and I could hear a 3 or 4 year old chatting. As the passed the window the child stopped talking and almost began chanting turtleturtleturtleturtle. It gave me goose bumps or as they say in Hawaii...Chicken Skin!
Comment on or Share this Article →

30 baby sea turtles making their way to the ocean
It is difficult to see in a small image but there are 30 baby turtles here! My inspiration for this piece comes from the amazing survival instinct of the Sea Turtles. Can you imagine they hatch alone with their siblings in the dark of night with only the light of the moon or the stars reflecting off the water to guide them? It can be hundreds of yards to the water and there are many predators on land and many more in the ocean. Some primal force enables any of them to survive. At some level we humans are also at the mercy of nature, with changing weather patterns, global warming and uncertanty. I have had high quality giclees produced of this piece, please inquire about sizes and pricing. I am actively looking for gallery representation.
Comment on or Share this Article →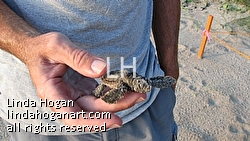 Rescued Sea Turtle
I came upon a freshly hatched sea turtle nest early one morning in Vero Beach, Fl. There were hundreds of tiny flipper prints leading from the dunes to the water. They looked like small tractor tread imprints on the fine sand. I walked toward the nest to see what it looked like and was shocked to see one little stragler unable to get out and join the others in the water. His back leg was tangled up in the long sea grass and everytime he climbed up he was pulled back down. All the signs posted on the marked nests say it is illegal to touch or interfere with the sea turtles as they are an endangered species. I knew the Sea Turtle Research people would come by as they patrol on ATVs every morning looking for new nests laid in the night as well as any new hatches. I decided to wait and keep watch in case a sand crab, a stray dog, a pelican, or a vulture, tried to harm the turtle. In about a half hour the research person came along and I showed him how the little guy was caught. He carefully dug down and pulled the grass out by the roots and lifted the turtle and grass out then gently untangled him. Fortunately I had my camera and was allowed to snap a picture before the rescuer walked the turtle closer to the water. He put him down about 6 feet from the edge and away he went! It only took about 30 seconds and he was off in the wild blue sea. There are so many predators and other dangers that very few of the thousands of hatchlings reach adulthood, but I like to think "my" little one will beat the odds. Not long after, I was inspired to paint a group of hatchlings on their "maiden voyage". That small painting is on display at the Tropic Art & Frame Gallery in Vero Beach and can also be viewed on my web site www.lindahoganart.com
Comment on or Share this Article →