Three Turtle Tots at the beach
I have a total of 5 small Turtles completed. They are $175.00 each 3 are in Tropic Art in Vero and 2 are in Melborne Fl in Silken Fine Art. Each is individually sculpted with a different face and hand painted in oils.Some seem to be laughing or talking. I feel such a connection to the sea turtles that I have painted and sculpted them almost exclusivly for the last 5 years. In Florida I have seen tthe mothers coming on shore to lay their eggs and have been lucky enough to see the hatchlings emerge. I've helped to rescue some and have learned a lot about the perils they face. One researcher told me that only about 1% ever survive to adulthood. Recently in Florida the cold weather had a huge impact on the turtles and other marine life. Hundreds were saved by volunteers who warmed them.
Comment on or Share this Article →

Sea Turtles finding their way to the sea
This shows a few of the 30 hatchlings. Some are loggerheads and some are greens since they are hatched at the same time of year. The greens are a little later but there is a period of time when they overlap. Most of them emerge between May and Sept. The greens have light lines between darker scales and shells are light redish brown. The loggerheads have black lines.
Comment on or Share this Article →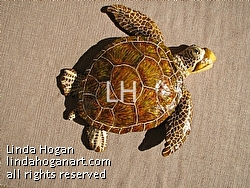 Artist Linda Hogan with newly completed Green Sea Turtle painted sculpture
Belize is a female Giant Green Sea Turtle. They are abundant in Hawaii and also the Caribbean and Florida. They are still on the endangered species list but people are learning more ways to protect them all the time. A good resource for information about Sea Turtles and what you can do to help is CCC the Caribbean Conservation Corp. founded back in the 50's by Archie Carr.
Comment on or Share this Article →